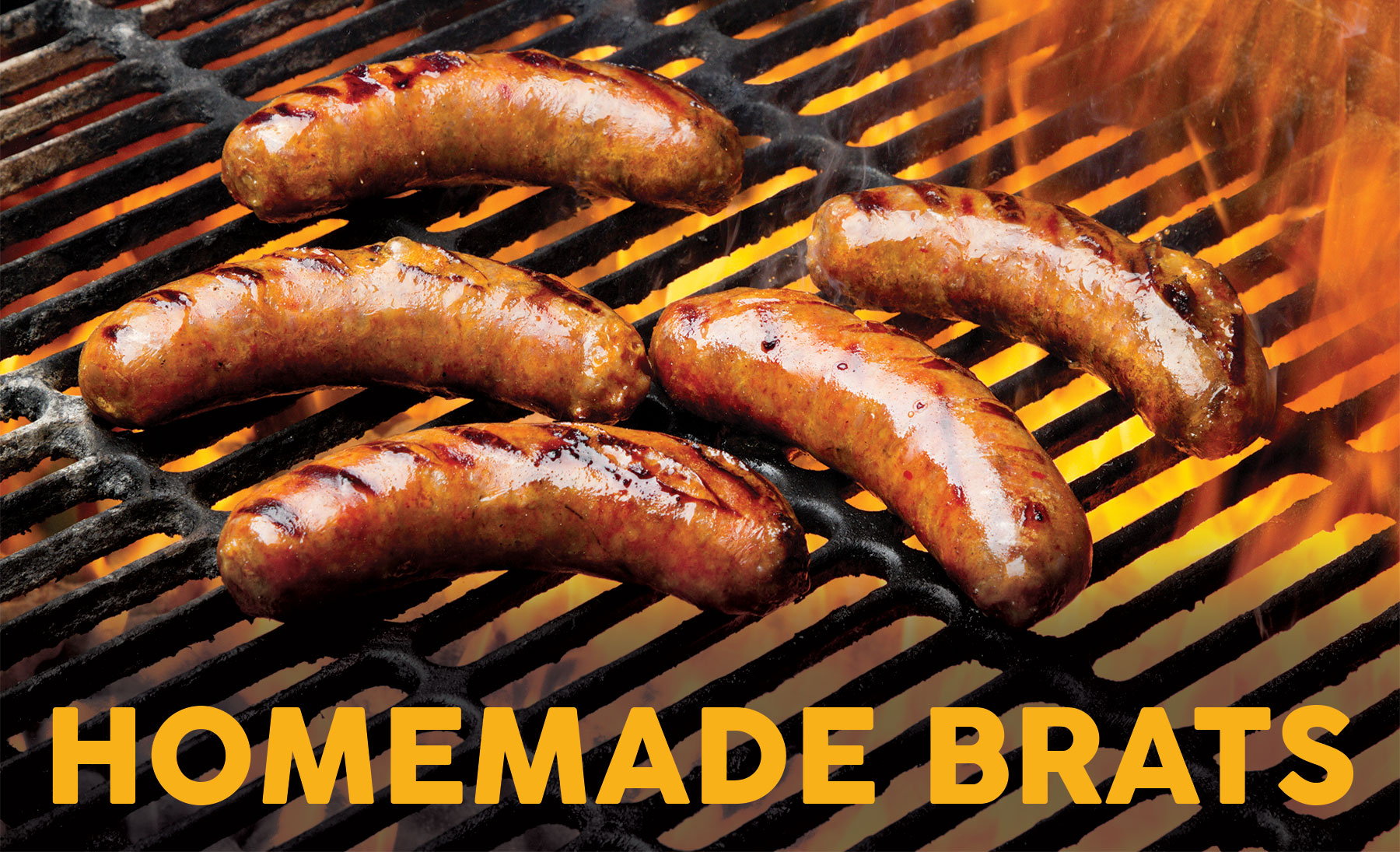 Pork Sausages / Brats
   Made from the highest quality boneless pork butt with no additional fat added
Regular Brats
a Wisconsin style brat seasoning
Cheddar Brats
Wisconsin style brat seasoning with cheddar cheese added
Jalapeno Cheese Brats
Stuffed with diced pickled jalapenos and pepper-jack cheese. SPICY!
Bacon Potato Onion Brats
Stuffed with our own homemade bacon, diced fresh onion and diced potatoes
Maple Brats
Made with locally produced maple syrup
Blueberry Brats
Loaded with locally grown blueberries and a touch of brown sugar
Green Pepper & Onion Brats
Chock full of diced fresh green pepper and onions
Chili Cheese Dog Sausage
The perfect blend of seasonings to taste like your favorite chili-dog, with the cheese already inside for less mess.  Just add mustard and onions!
Polish Sausage
LOTS of Garlic!
Italian Sausage
A sweeter type Italian sausage, with just the right amount of fennel
Cudighy
Italian sausage on steroids! Extra fennel, garlic and a little red wine.
Garlic & Chive Sausage
Can't have too much garlic!
English Bangers
A mild breakfast-type sausage, served most often with "mash"
Chicken Sausages
All made from boneless, skinless chicken thighs - lean but not too dry.
Mushroom & Swiss Sausage
Mildly seasoned and full of sliced mushrooms and swiss cheese
Broccoli & Cheddar Sausage
Who doesn't like cheddar cheese with their broccoli?
Asagio & Wild Rice Pilaaf Sausage
A lower sodium choice with no salt added in the seasoning. Wild rice pilaf, asagio cheese, and diced red peppers give this sausage a delightful flavor.
Chicken Fajita Sausage
Just a little heat - LOTS of flavor. Stuffed with flame-roasted peppers and onions.
Shrimp Scampi Sausage
Chock full of whole shrimp, fresh garlic, a little lemon-pepper and white wine.
Buffalo Wing Sausage
Tastes like hot wings - Franks Red Hot Sauce in the seasoning with a little bleu cheese added.
Cordon Bleu
A favorite sausage loaded with chunks of ham and swiss cheese
Pineapple Teriyaki Sausage
Slightly sweet with chunks of pineapple
Beef Sausage
Mac-n-Cheese Sausage
Our first ever beef sausage, seasoned with Montreal Steak seasoning. Loaded with macaroni & two kinds of cheese. A new favorite!
Olive Burger
(coming soon)
Loaded with green olives and Swiss cheese.
Seasonal Brats:
Asparagus-Cheese
(Spring)
Only made during local asparagus season, half pork, half asparagus, with cheddar and pepper-jack cheese
Swedish Potato Sausage
(Between Thanksgiving & Christmas)
A traditional Swedish-style blend
Homemade Hot Dogs
Also, make sure you try our own homemade smoked hot dogs--once you taste them, you will never go back to the store brands again!
Don't forget to pick up a package of our fresh baked Brat Buns from our bakery to make your cookout complete.
Monday Closed
Tuesday 8:30-5PM
Wednesday 8:30-5PM
Thursday 8:30-5PM
Friday 8:30-5PM
Saturday 8:30-1PM
Sunday Closed
6261 S Oceana Dr.
Rothbury, MI 49452

Mac's Meats & Country Roads Bakery is a local butcher shop, meat market, and bakery located in Rothbury, Michigan, providing quality fresh meat, fresh baked goods, deli meats and other select foods to our customers in Oceana County and the surrounding areas.